Want to know how to edit your videos like an influencer? Content creators are posting cutting-edge social media videos that are engaging, unique, and of course, look professional. And now you can too. 
Whether you're a video editing beginner, YouTuber, gamer, micro-influencer, or a passionate Instagram foodie, we've got the best video editing tips to take your content to the next level. 
Read on to explore how to edit your social media videos like a professional influencer. 
How videos can increase influencer engagement
Video posts are one of the best ways to connect and engage with your social media audience. They're easy to comprehend and capture viewers' attention faster than text or static images on their own. Users don't even have to watch the entire video to count as a view. Facebook and Instagram count views after 3 seconds, YouTube at 30 seconds, Twitter and LinkedIn at 2 seconds, and Snapchat and TikTok at an all-time low of 1 second. 
But video isn't just about gaining viewers' attention faster than images do. Video posts can stimulate a more robust emotional response from viewers, engage with followers in real-time, and increase product purchase intent rates by 97%. 
From gaming live streams to how-to tutorials, unboxings, Muckbangs, and funny memes, videos consume the internet. Take a look at popular millennial influencer Emma Chamberlain, who has over 11.1 million subscribers on YouTube and 14.6 million Instagram followers. Chamberlain's YouTube channel is jam-packed with follow-me-around vlogs, but they're edited in a unique style. Chamberlain's old-school editing vibe might just be one of the reasons why each video upload has over 2 million views and counting. 
The best editing features for influencers
Let's take a look at editing features influencers can't live without using Clipchamp's free online video editor.
1. Aspect ratio
Every social media platform prefers a different video aspect ratio, so choosing the right dimensions can sometimes be a little tricky. We recommend creating all social media videos in widescreen 16:9 aspect ratio, suitable for Facebook, Instagram, Vimeo, YouTube, and many more social platforms. Content creators can repurpose 16:9 aspect ratio content for other socials by simply changing the aspect ratio in Clipchamp's online video editor. 
2. Transitions and filters
Influencers usually have a specific vibe to their social media pages. Filters are a simple branding technique used to give your videos and profile page are consistent feel and recognizable look. Creators can add transitions and fades to create the perfect video slideshow and keep up with TikTok trends. 
3. Green screen
Whether you're producing a captivating ad for Instagram, YouTube, or TikTok videos, virtually showing real estate, or sharing your pro gaming live streams, the green screen feature is here to help. Edit like an influencer by replacing parts of your video with dynamic green screen backgrounds, overlays, and GIFs to amplify your editing skills in a few seconds. It's called green screen for a simple reason, it's a large backdrop or editing feature that's green, also known as chroma key. The Green screen feature lets creators superimpose their subject on any kind of virtual background. 
4. Picture in Picture
Reaction and gaming videos on YouTube are some of the most popular forms of entertainment. But have you ever wondered how your favorite YouTuber or gamer can feature in the corner of the video? It's called Picture in Picture. Content creators can use Clipchamp's overlay effect where and when you want them in your videos with no experience needed. Picture in Picture can be used for many different purposes, like reacting to videos, online tutorials, sharing your computer screen, and recording yourself in your webcam all at the same time.
5. Rotate and crop videos
Sometimes when influencers shoot videos, they aren't always perfect. Their pet could wander in from the left-hand corner, or the video clip might rotate in the uploading to editor process. But this doesn't mean they have to refilm their content or make the video any less quality. It only takes a few simple steps to rotate and crop videos (or photos or GIFs) with Clipchamp. 
6. Trim and cut videos
If your social media video is too long for the requirements of the platform, don't worry! Influencers trim and cut their videos during the editing process to make them as informative and short as possible. Trimming lets creators delete any unwanted content within the video, especially if there is a big pause or silence. You can also cut videos to the perfect length and make them into previews for social media posts. This is perfect for promoting YouTube videos via YouTube Shorts. Viewers can click the video link if they would like to watch the full video.  
7. Automated captions and subtitles
Sometimes users forget their headphones, or can't play a YouTube video, TikTok, or Instagram Reel with sound on. So if they can't lip-read, how can they enjoy influencers' content? In 2020, the Clipchamp iOS app went viral on TikTok when user Ryanstarr discovered how accurate and time-saving the auto-captioning tool is. Auto-captioning tool is one of the best ways to improve video reach, stay connected with viewers, and set your brand apart from the competition.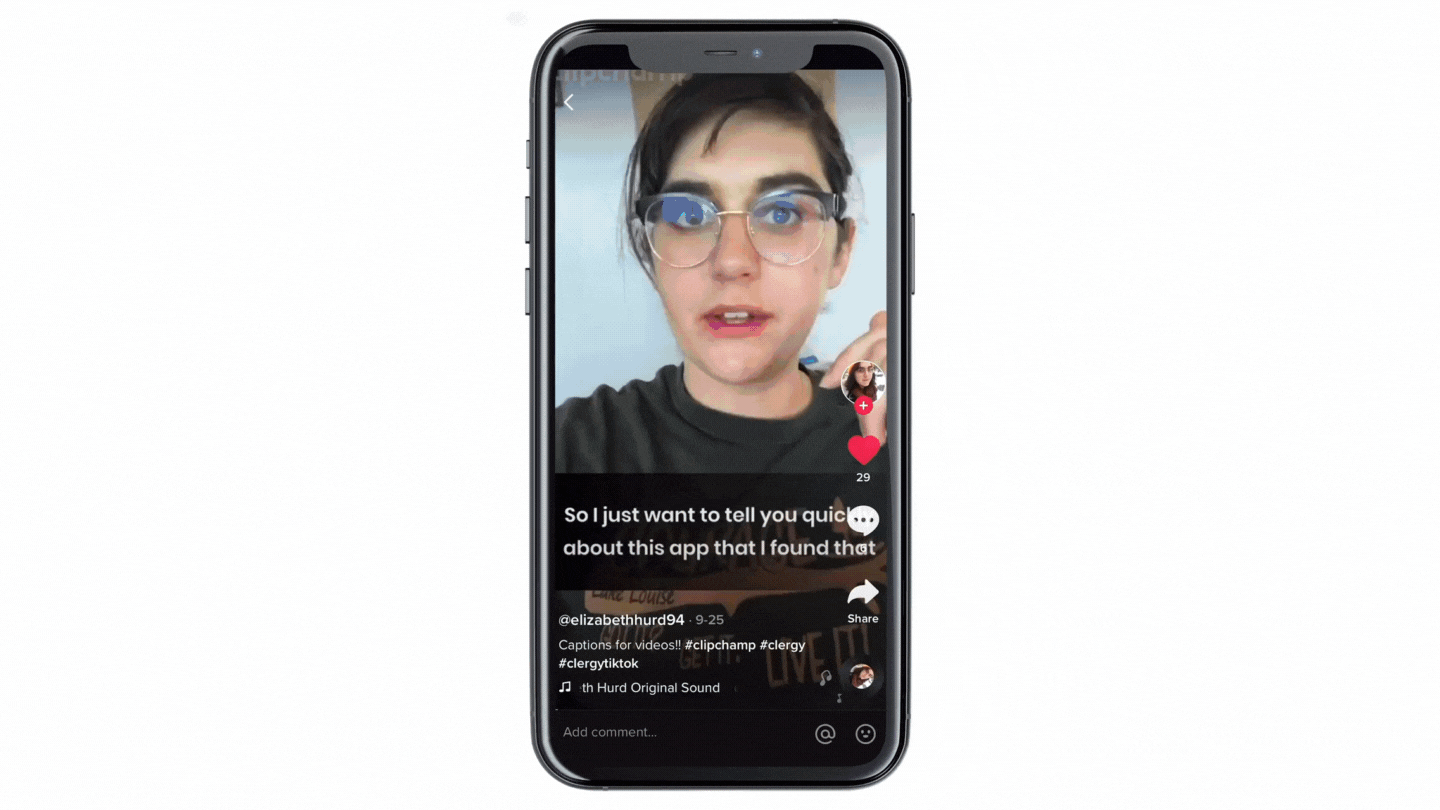 8. Text to speech feature
Voiceovers are a must-have when creating professional social media videos. From TikTok trends to room tours on Instagram Reels, creators can turn text to speech in seconds and hear your narrative come to life. Choose from 170 unique AI voices to tell your stories, your way.
9. Memes
It's no surprise memes are everywhere. They're the sensation of this decade and influencers and followers can't seem to get enough of them. From funny cat videos to nostalgic TV show clips, there are no rules when it comes to memes. Hop on the meme bandwagon and start creating your own using Clipchamp's free video meme maker.
10. Stock music
Fighting monsters? Dodging gunfire? Epic gaming experiences start with awesome gaming music tracks that are thrilling and, royalty-free. Background music is a massive part of every influencers video content, especially in the background of YouTuber's tutorials. Gaming videos or storytime videos. Free to use stock audio can set the scene, mood, and match influencers' aesthetic. 
11. YouTube subscribe panels and Instagram stickers
Want to put the final touch on your social media video content, just like influencers do? Boost your subscribers and followers by adding animated stickers to your videos. Always include a strong call to action in your video content so viewers know where to find you or learn more. 
Popular social media trends
Take a look at some of the most popular social media trends using video. 
Short-form Facebook videos
Short-form video ads have become the latest craze on Facebook. Influencers, content creators, and small businesses are now hopping onto the short-form video trend to engage viewers quicker, and for longer. 
Instagram Live Rooms
Influencers can now reach a wider number of viewers, drive sales, and engage with their followers in real-time through Instagram Live Rooms. The highly requested update allows creators to go live with up to 3 guests. Unlike previous Instagram live streams, only allow a single guest at a time. Users can now double the number of people you can have in your broadcasts.
Pinterest video posts
Pinners love seeing videos in their feeds, alongside static images and video Pins will stand out from the crowd of Pinterest content. Our 2:3 aspect ratio ensures Pins follow Pinterest's best practices, just like influencers Pins. Post Pinterest content like a professional content creator using one of our ready-to-use Pinterest templates. 
TikTok challenge video trends
It's extremely easy to lose track of time and scroll endlessly through TikTok. The video-sharing platform has a massive range of topics and is not shy about trends going viral. TikTok hashtag challenge videos are one of the easiest, and fun ways to become a part of trending topics. Take a look at our TikTok challenge ready-to-use video templates for all your TikTok video needs.
YouTube how-to tutorials
How-to videos on YouTube aren't a new trend, but they've recently grown in popularity. From makeup tutorials to cooking delicious recipes, to learning how to install new software, how-to videos teach viewers virtually anything. And planned content helps keep viewers engaged and keeps them coming back for more. Add your brand kit to your YouTube videos so viewers can easily recognize your content with Clipchamp. 
FAQ 1. Which browser does Clipchamp work in?
Create works in Google Chrome and Microsoft Edge based on Chromium. Make sure to update your browser to the latest version before starting your first editing project.
FAQ 2. Which input file types and formats are supported?
Please see this support article for the up-to-date list for supported video, audio, and image formats you can use in Create.
FAQ 3. Do Clipchamp videos have a watermark?
This depends on what features and export settings you use to create your video. You can easily produce a free video with no watermark by using free features and exporting at 480p resolution. Alternatively, you can sign up for a premium account to use any feature and export at 720p or 1080p resolution with no watermark. 
Edit your videos like an influencer 
Follow our editing tips and tricks to create professional-looking social media videos just like your favorite influencers. 
Create aesthetically pleasing social media content with Clipchamp's free online video editor.